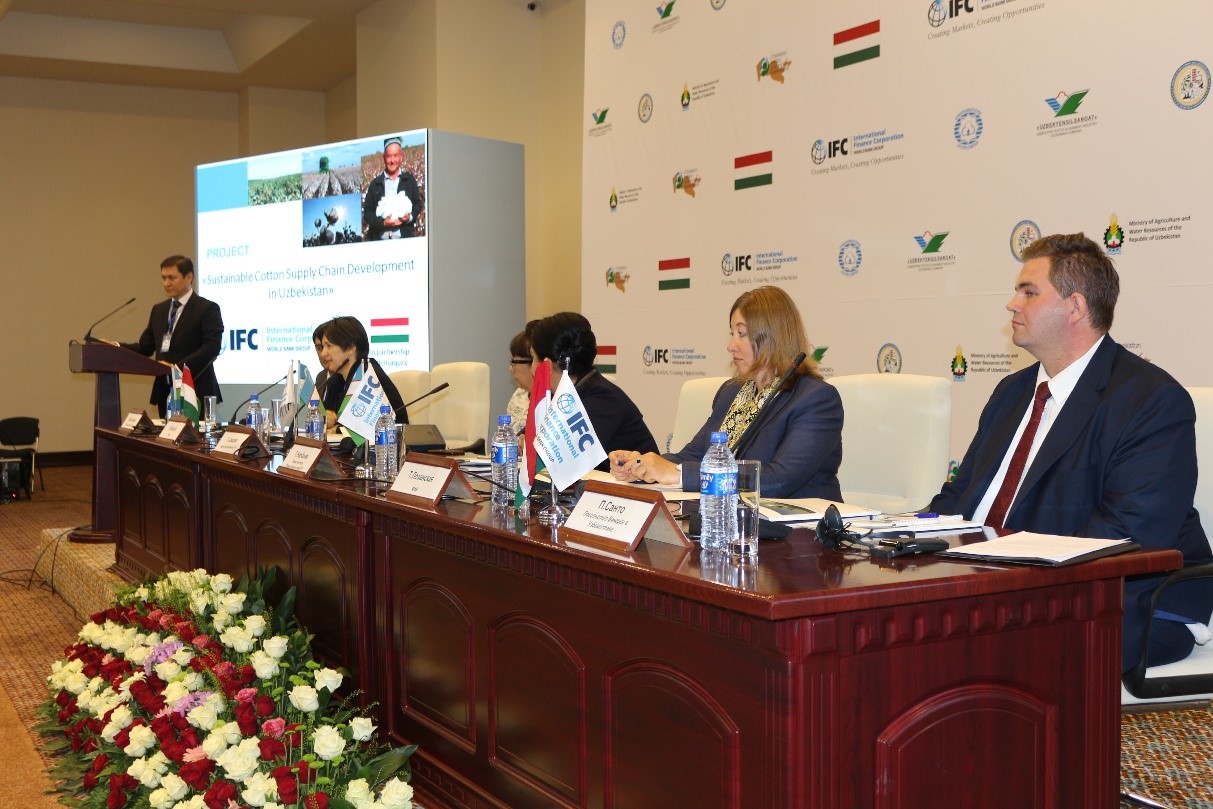 Október 24-én a taskenti XIII. Nemzetközi Üzbegisztáni Gyapot- és Textilvásár keretében az IFC (Nemzetközi Pénzügyi Társaság, a Világbank Csoport tagja) ünnepélyes megnyitót rendezett és prezentációt tartott a környezetvédelmi szempontból fenntartható üzbegisztáni pamutgyártás fejlesztésére irányuló projekt elindítása alkalmából. A projekt első fázisának megvalósítására a magyar EXIM Bank pénzügyi támogatásával kerül sor, és abban az IFC az ENSZ Nemzetközi Munkaügyi Szervezetével (ILO) is együttműködik. A rendezvényen az IFC helyi és regionális képviselői mellett részt vett és felszólalt Galina Saidova üzbég gazdasági miniszter és Tanzila Narbaeva miniszterelnök-helyettes. Magyarország és az Exim képviseletében Szántó Péter nagykövet szólalt fel, méltatva, hogy az előremutató projekt hozzájárul a két ország közötti kapcsolatok erősítéséhez. Az eseményről és a projektről az IFC a következő angol nyelvű tájékoztatást adta ki:
"
IFC's Sustainable Cotton Supply Chain Development Project in Uzbekistan Presents Initial Results
Tashkent, Uzbekistan, October 24, 2017—IFC, a member of the World Bank Group, presented initial results from its advisory project on sustainable cotton supply chain development in Uzbekistan at the annual cotton trade fair in Tashkent.
The Sustainable Cotton Supply Chain Development Project's achievements during its first seven months include developing the infrastructure for establishing a system of standards for sustainable cotton production and testing it on pilot farms, and conducting a diagnostic of cotton farming production technologies. Recommendations were also developed for increasing the effectiveness of cotton production and introducing mechanization.
IFC will continue to work on introducing a system of standards for sustainable cotton production in the country, in partnership with the Ministry of Agriculture and Water Management , АО Uzbekengilsanoat, the Ministry of Labor and Labor Relations, and the Federation of Trade Unions.
Deputy Prime Minister Tanzila Narbaeva noted: "IFC's project is helping to implement the government of Uzbekistan's objectives to modernize, and improve the efficiency and mechanization of, cotton production and harvesting. Thanks to the project, Uzbekistan is now adopting best practices in cotton production, which will help farmers and textile companies meet international standards."
The Chairman of the Board of АО Uzbekengilasanoat, Ilkhom Khaidarov, emphasized: "According to the development strategy of the textile sector, by 2020, Uzbekistan will have the capacity required to process all of the cotton fiber produced domestically. Production of textile products meeting international standards will require the implementation of a sustainable cotton production system. The development of a sustainable cotton production system and its implementation by farmers and the subsequent supply of the fiber to the textile sector will facilitate the access of Uzbek products to international markets."
IFC's Head of Advisory Services in manufacturing agribusiness and services, Tania Lozansky, said: "Our strategic mission is to support the sustainable development of the private sector. IFC's project on developing the cotton sector in Uzbekistan will help speed up the transformational process aimed at increasing the role of the private sector in the country's economy. Introducing best practices in cotton sector will also help to increase competitiveness of Uzbekistan's cotton and textile industries at global market."
The Ambassador Extraordinary and Plenipotentiary of Hungary in Uzbekistan, Peter Santo, said: "By supporting reforms and the economic development of Uzbekistan via this project, we hope to strengthen the partnership between our two countries."
The project is being implemented in Uzbekistan with the financial support of the government of Hungary.